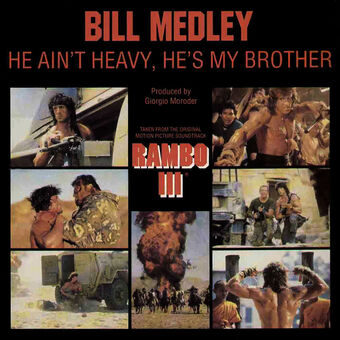 He Ain't Heavy, He's My Brother
is a song performed by Bill Medley for the soundtrack of
Rambo III
.
Description
Edit
The song is about never leaving another soldier behind, and it is played during the end credits to represent neverending friendship, the friendship Colonel Sam Trautman and John Rambo have.
The road is long with a many a winding turn
That leads us to who knows where
who knows where.
But I'm strong
strong enough to carry him
He ain't heavy
he's my brother.
So one we go
his welfare is my concern
No burden is he to bear
we'll get there.
For I know he would not encumber me
He ain't heavy
he's my brother.
If I'm laden at all I'm just laden with sadness
That's everyone's heart isn't filled with the gladness
Of love for one another.
It's a long
long road from which there is no return
While we're on the way to there
why not share?
Yes
and the load
the load does not weigh me down
down at all
He ain't heavy
he's my brother.
He ain't heavy
he's my brother
He ain't heavy
he ain't heavy
he's my brother
Ad blocker interference detected!
Wikia is a free-to-use site that makes money from advertising. We have a modified experience for viewers using ad blockers

Wikia is not accessible if you've made further modifications. Remove the custom ad blocker rule(s) and the page will load as expected.