Rambo
is a light gun shooter developed by Sega for the arcades in 2008.
The player assumes the role of John Rambo, star of the Rambo series of films.
Development
Edit
The game runs on the Sega Lindbergh system board. The arcade cabinet features a 62-inch screen.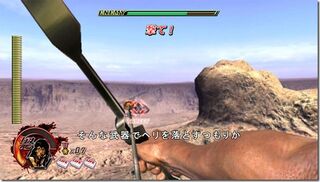 The game was released in Japanese arcades on September 18, 2008.
Reception
Edit
Destructoid writer Anthony Burch described the game as the dumbest game he ever played in his adult life. Jean Snow from Wired enjoyed playing it, speaking positively about the shooting the Uzi gun controller.
Ad blocker interference detected!
Wikia is a free-to-use site that makes money from advertising. We have a modified experience for viewers using ad blockers

Wikia is not accessible if you've made further modifications. Remove the custom ad blocker rule(s) and the page will load as expected.