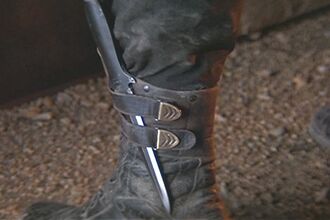 The Rambo III boots (Adidas Rambo III) were the boots worn by John Rambo in Rambo III.
Description
Edit
The boots of the movie were sponsored by Adidas although made by Pasquale DiFabrizio. They came with a knife sheath inside, "French" type double buckles/flap, 9 eyelets with 3 hooks, ankle pads with Adidas logos and a leather toe cap. The boots do look very athletic, very much like boxing/wrestling boots although they were used for climbing in the movie.
External Links
Edit
Ad blocker interference detected!
Wikia is a free-to-use site that makes money from advertising. We have a modified experience for viewers using ad blockers

Wikia is not accessible if you've made further modifications. Remove the custom ad blocker rule(s) and the page will load as expected.