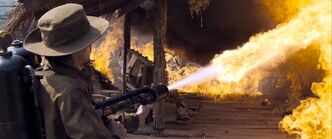 The T-148 flamethrower is a weapon used by the Tatmadaw Army. 
Tatmadaw soldiers in the death squad marching through the villages are seen using flamethrowers to torch citizens while the village is bombed with an 81mm mortar, oddly enough with their own soldiers inside. 
Later in the film, a boat-mounted T-148 is seen spraying flaming gasoline into the battlefield, killing Diaz. Luckily, Schoolboy uses his sniper rifle to kill the machine gunner after Rambo turns his machine gun on the naval ship and destroys it, killing the entire crew, before Myint fires an AT-4 rocket launcher at the boat, causing it to explode. 
Ad blocker interference detected!
Wikia is a free-to-use site that makes money from advertising. We have a modified experience for viewers using ad blockers

Wikia is not accessible if you've made further modifications. Remove the custom ad blocker rule(s) and the page will load as expected.